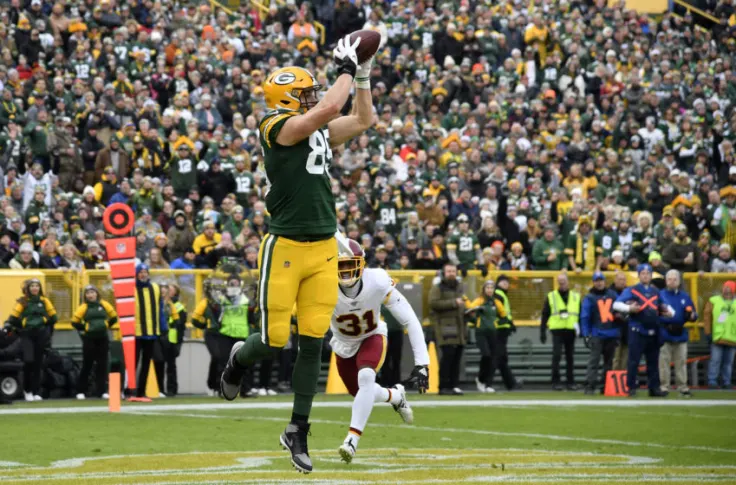 I'll preface what's next by saying it's a heck of a lot easier making decisions when there are no ramifications. Unlike the people who work for the Green Bay Packers, my life isn't affected by how many games the team wins or loses in any given year. With that out of the way, here's what I would do if I were in general manager Brian Gutekunst's shoes this offseason:

1) Trade Aaron Rodgers
He's still an elite regular-season quarterback, but winning the NFC North and laying an egg in January got old years ago. The chance to trade a soon-to-be 39-year-old player for multiple high draft picks comes along maybe once every century.
2) Sign a veteran quarterback
Marcus Mariota obviously isn't Rodgers, but he has ability and knows the offense from his year with Matt LaFleur in Tennessee. Surround the former Heisman Trophy winner with enough talent, and there's no reason he can't at least be Jimmy Garropolo. And if young Jordan Love proves to be the better player in training camp, let him lead the way in 2022.
3) Trade Davante Adams
As good as he is, the only reason to pay a soon-to-be 30-year-old wide receiver $100 million is to keep Rodgers happy. But with No. 12 gone, the Packers can do the right thing and add another high pick and clear cap space for now and the future.
4) Re-sign Marquez Valdes-Scantling or Robert Tonyan
One of these veteran free agents needs to be retained with Adams gone. Even with all the extra draft picks from the trades of Rodgers and Adams, the offense can't rely on Allen Lazard, Amari Rodgers, Josiah Deguara, and a handful of rookies.
5) Re-sign De'Vondre Campbell
The offense might not be as good without Rodgers and Adams, so it's imperative to keep the defense together. That starts with extending All-Pro Campbell, who played inside linebacker better than it's been played in Green Bay for 20 years.
6) Re-sign Rasul Douglas
Moving on from Rodgers and Adams should afford Green Bay the cap space to extend Douglas, as long as the price is reasonable. If another team makes a ridiculous offer, re-signing either Kevin King or Chandon Sullivan would be the backup plan. Neither should be very expensive. Either way, adding a young cornerback in the draft would still be a priority.
7) Re-sign role players
With a little more cap flexibility, the Packers could hold onto useful veterans like offensive lineman Lucas Patrick and defensive end Tyler Lancaster. They're not difference-makers, but it's sure nice to have them around when injuries strike.
8) Add a few reasonably-priced free agents
Even with Rodgers, Adams, and a few other highly-paid veterans gone, the Packers still won't be in a position to sign top-tier free agents. But they should be able to shop for bargains. Perhaps add a receiver and/or a defensive lineman in May.
9) Release Za'Darius Smith
Even if the Packers could afford to keep the two-time All-Pro edge rusher, now's the right time to say goodbye. Smith's back makes him too big a risk at anything close to his current salary. He'll likely settle for an incentive-laden deal elsewhere.
10) Release aging veterans
Tight end Marcedes Lewis, wide receiver Randall Cobb, and kicker Mason Crosby are close to Rodgers, so there's no reason to keep them around if he's gone. Besides adding cap space, moving on from older players is usually the right choice.
The above moves would create $46.5 million of cap space, bringing the Packers from $30M over to $16.5M under. By restructuring the contracts of outside linebacker Preston Smith, safety Adrian Amos, defensive end Dean Lowry, and tackle Billy Turner, and extending the contract of corner Jaire Alexander, the Packers could get to $40M under the cap. That would give Gutekunst the room needed to re-sign a few of his own free agents and even add a couple from other teams.


The Packers would have to play differently on offense without Rodgers and Adams, but that's OK. Aaron Jones and A.J. Dillon are extremely talented running backs who should shine behind a healthy offensive line and in a system that truly resembles the one in San Francisco and not the weird LaFleur/McCarthy hybrid that's been on display the past three seasons. The talent at receiver won't be great, but the Packers went 7-0 and averaged over 30 points a game without Adams since 2019. If LaFleur really is an offensive mastermind, there'll be more than enough weapons to get the job done.
By trading Rodgers and Adams, the defense would have a chance to build on the improvement it showed last season under first-year coordinator Joe Barry. With Campbell and Rashan Gary at linebacker, Kenny Clark at nose tackle, and Jaire Alexander at corner, the Packers have stars at all three levels. Add in Preston Smith, Eric Stokes, Adrian Amos, Darnell Savage, and a high draft pick or two, and there's no reason why this side of the ball shouldn't be really good in 2022.
Rich Biasucci isn't a miracle worker, but the franchise's most accomplished special teams coordinator in over two decades will make a big difference right away. The former interim head coach of the Raiders will put players in a position to succeed, and he won't let Gutekunst do nonsensical things like promoting a 225-pound long-snapper at midseason.
In reality, I'd be surprised if even half of my suggestions come to fruition in the next few weeks. Gutekunst, LaFleur, and team president Mark Murphy seem determined to make another run at the Super Bowl with essentially the same cast of characters that's come up short the past three seasons. Would things be any different done my way? Absolutely. The Packers wouldn't be nearly as good in 2022, but they'd have a chance to better in two or three years. And while patience is a virtue, it's one that's a lot easier to possess from a couch in New Jersey than from an office on Lombardi Avenue.
DONATE TO PACKERS NOTES