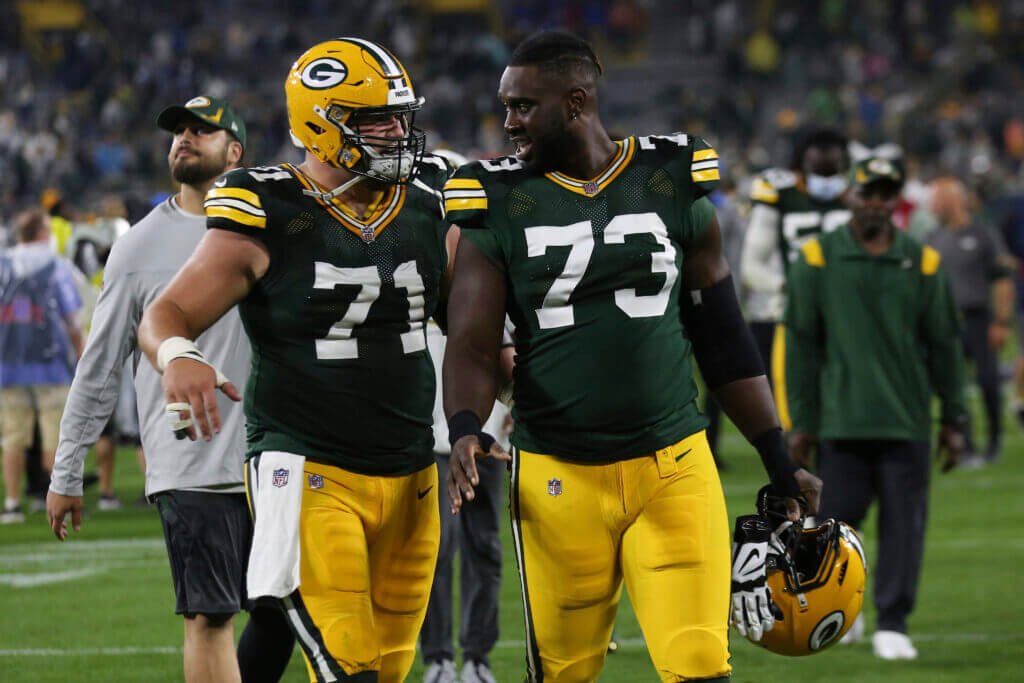 Three short years ago, the Packers entered August with David Bakhtiari at left tackle, Elgton Jenkins at left guard, Corey Linsley at center, Billy Turner at right guard, and Bryan Bulaga at right tackle. When the offense takes the field for the first practice of training camp on Wednesday morning, none of those players will be on hand. Bakhtiari and Jenkins are on the physically unable to perform list, Linsley and Turner are with other teams, and Bulaga remains unsigned.
The 12 offensive linemen on Green Bay's active roster have started a total of 46 games, and six of the 12 haven't played a single snap in the National Football League. With a combined 32 career starts, third-year pro Jon Runyan Jr. (16) and second-year pro Royce Newman (16) are easily the most experienced healthy offensive linemen heading into training camp.
With the season opener against the Vikings now just 48 days away, here's how things look on a very unsettled offensive line:




LEFT TACKLE
1. Yosh Nijman
2. Cole Van Lanen
3. Zach Tom
4. Caleb Jones
If Bakhtiari's troublesome left knee keeps him on PUP into the season, the logical move would be to replace him with Nijman. The fourth-year player started eight games at left tackle last season and generally held his own. But it would be a mistake to overlook Tom, a rookie whose college tape was very impressive. While the former Wake Forest star lacks Nijman's size and power, his feet are quicker. Starting Tom at left tackle would enable Nijman to remain at right tackle, where he worked most of the spring. Van Lanen spent most of the OTAs and minicamps on the right side, but he played left tackle at Wisconsin. Jones (6-8, 353) is an enormous undrafted rookie who's probably not ready to face NFL pass rushers.
LEFT GUARD
1. Jon Runyan Jr.
2. Zach Tom
3. Jake Hanson
4. Cole Schneider 
5. George Moore
No position is more settled heading into training camp. Runyan was solid last season and should only get better in year 3. The former Michigan star isn't always pretty to watch, but he usually gets the job done. While he's got a ways to go to be mentioned in the same breath as former stars Josh Sitton and T.J. Lang, he's a similar-type player. Tom is a better prospect at tackle than guard, but he worked exclusively at the three interior positions in the spring. Hanson spent all of 2021 on the 53-man roster. It would be a mistake to count out Schneider. The undrafted rookie is a tough SOB who plays much better than he looks. Moore is bigger and more athletic than Schneider, but his college tape wasn't quite as impressive.
CENTER
1. Josh Myers
2. Jake Hanson
3. Zach Tom
4. Cole Schneider
5. Michael Menet
Myers will almost certainly reclaim the starting job he held until injuring his knee midway through last season. The former Ohio State star played OK as a rookie, although the Packers may always regret drafting him over the Chiefs' Creed Humphrey, who went to the Pro Bowl last season. I think Tom will eventually be the best center on the roster – if he's not starting at left tackle – so it wouldn't shock me to see Myers move to guard at some point in the next few years. His impressive size (6-5, 315) and strength might serve him better at that position. The undersized Menet figures to be a camp body.
RIGHT GUARD
1. Sean Rhyan
2. Royce Newman
3. Jake Hanson
4. Cole Van Lanen
5. Cole Schneider
6. George Moore
Unless Rhyan winds up competing at one of the tackle positions – which is certainly possible – I like his chances of unseating Newman. The third-round pick from UCLA worked at right guard during the spring, and he's built to play the position. Rhyan is big (6-5, 323) and powerful, and while not a great athlete, he moves well enough to do what's required in this offense. Newman started 16 games as a rookie in 2021, and while he had plenty of ups and downs, he did show some improvement down the stretch. Nevertheless, the coaches decided to replace him vs. the 49ers in the postseason. Van Lanen and Tom could also figure here if Rhyan moves to tackle and/or Newman doesn't get off to a strong start.
RIGHT TACKLE
1. Royce Newman
2. Sean Rhyan
3. Cole Van Lanen
4. Zach Tom
5. *Rasheed Walker
Unless Nijman competes here, the starter figures to be either Rhyan or Newman. I prefer Rhyan at guard and Newman at tackle, but the coaches could choose to go the other way. And, who knows, maybe Tom and Van Lanen will also get a look here. While Walker is talented, the rookie from Penn State is a project. Regardless, the right side of the line will be very inexperienced. It's fair to wonder whether general manager Brian Gutekunst will look to add a veteran. Signing Dennis Kelly last July proved to be a great decision. There are some options available, including the aforementioned Bulaga.




As bleak as things look now, there are reasons for optimism regarding the offensive line. Jenkins should be back from his knee injury by late October or early November, Bakhtiari could theoretically return at any time, and Rhyan and Tom are talented rookies. This group will almost certainly be playing at a higher level in November and December than in September and October. The key will be surviving the early part of the season. Talk about a baptism by fire for rookie O-line coach Luke Butkus, who spent the past three years as the top assistant to new offensive coordinator Adam Stenavich.
* – currently on the non-football injury list