There's no such thing as a must-win game in Week 2, but with Tampa Bay lurking in seven days, tonight's NFC North clash with the Bears at Lambeau is as close to a must-win as there is in the middle of September. Only six out of 182 teams since 1980 have made the playoffs after opening 0-3, and while recently adding an extra game to the schedule and expanding the postseason field makes this possibility a little more doable, it would still be an incredibly uphill climb.
If the Packers are going to even their record at 1-1 and maintain their recent dominance of the Bears, here are five keys to victory:




1. WIN THE TURNOVER BATTLE
The Packers are undefeated (30-0) under Matt LaFleur when they win the turnover battle, so this will remain at the top of the list until it's no longer true. Joe Barry's defense failed to take the ball away in Week 1 in large part because the front seven couldn't get consistent pressure on Kirk Cousins. That needs to change against Justin Fields, and it'll be up to interior linemen Kenny Clark, Jarran Reed, Dean Lowry, and even Devonte Wyatt to do their part because outside linebackers Rashan Gary and Preston Smith aren't going to be able to just pin their ears back against one of the most athletic quarterbacks in the conference. If they're not disciplined in their rushes, Fields could scramble for over 100 yards.
2. KEEP FIELDS IN THE POCKET
Speaking of which, Fields will still look to run at the first sign of trouble, so Barry must have a plan to keep him from picking up huge chinks of yardage when the protection breaks down. Hopefully, it'll be a better plan than the one he came up with for Vikings wide receiver Justin Jefferson in the opener. Perhaps rookie inside linebacker Quay Walker will be used at times as a spy. The No. 1 pick from Georgia ran 4.5 at the Combine and is one of the few players at his position in the league who can keep up with Fields. In two games against Green Bay last season, the former Ohio State star picked up an average of 58 yards on the ground. That's almost certainly a number the defense could live with later tonight.
3. HAVE A PLAN FOR MOONEY
Unless the Bears don't own a computer, they've seen what Vikings coach and play caller Kevin O'Connell did to the Packers in Week 1. You can be sure former Green Bay assistant and current Chicago offensive coordinator Luke Getsy paid close attention. While there's nobody near the caliber of Jefferson playing for the Bears, speedy Darnell Mooney can potentially give the Packers secondary problems if communication and performance on the back end aren't much improved from seven days ago. The third-year player from Tulane can line up outside or in the slot. That'll allow Getsy to keep him away from All-Pro Jaire Alexander, so Rasul Douglas and especially Eric Stokes must perform better this week.
4. GET JONES 15 TO 20 TOUCHES
The Packers went into the opener with one big-play threat on offense, so it was inexcusable for Aaron Jones to touch the ball only eight times (five carries and three receptions). Whether LaFleur was to blame for not calling his number enough, or Aaron Rodgers was the main culprit for audibling too often out of runs, this can't happen again. It's hard to matriculate down the field five or six yards at a time against a quality defense, and under new coach Matt Eberflus and coordinator Alan Williams, the Bears figure to be pretty solid on that side of the ball. The Packers will need to make a handful of explosive plays later tonight, and the easiest way to do that is to get the ball into Jones' hands as often as possible.
5. START A NEW RIGHT GUARD
The Packers proved what I've been saying for months – an offense can function with either Jake Hanson or Royce Newman in the starting lineup but not with both. The pair was no match last week for Za'Darius Smith and Danielle Hunter. Fortunately, the Bears have only one defensive lineman in that class (Robert Quinn), but Eberflus has always been good at manufacturing pressure. The best way to shore up the offensive line is to put Hanson on the bench. That will happen if Jenkins, who fully participated in practice for the first time this summer on Friday, can return at right tackle. Otherwise, the Packers might have to live with Hanson and Newman posing as human turnstiles for another week.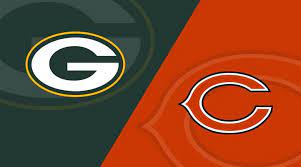 PREDICTION: After the Packers scored just once against the Saints in last season's opener, I would've bet my house on the offense putting up more than 25 points against Detroit in Week 2. I'm not willing to make that wager this time around. Getting back tackle Elgton Jenkins and/or wide receiver Allen Lazard would certainly help – both veterans were listed as questionable on Friday's final injury report – but there are too many concerns on the offensive side of the ball to feel overly confident against a scrappy Bears' defense that's going to play very hard and be exceptionally well prepared under Eberflus and Williams.




As wary as I'll be about the Packers for at least a while longer, it's still hard to see them falling to Chicago at Lambeau Field in a nationally televised game, especially after last week. Las Vegas has the home team favored by 10 points. Based on recent history, I get the big number, but it still seems a bit high. GREEN BAY 23-18 (Record: 1-0; record vs. spread: 1-0)