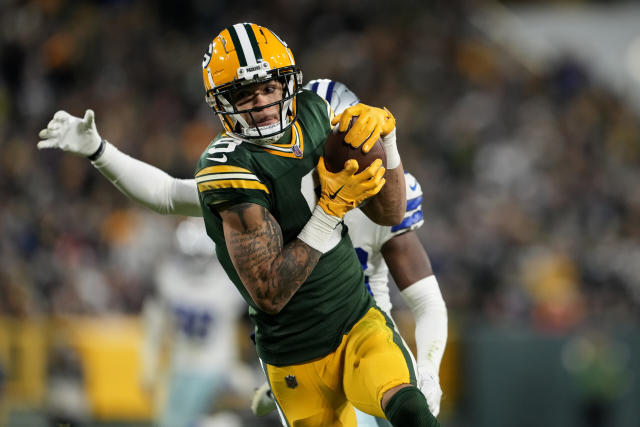 After re-watching Sunday's game against the Cowboys, here are five six things worth knowing:
1) It's no coincidence that the offense finally came to life on an afternoon when Christian Watson gave the Packers a true No. 1 wide receiver for the first time all season. While the rookie from North Dakota State had some ugly moments – two drops and a poorly tracked deep ball – his four catches for 107 yards and three touchdowns, including two from long distance, kept the Cowboys' defense honest and helped Aaron Jones and AJ Dillon combine for over 200 yards on the ground. If this was truly Watson's coming out party; the offense might actually be fun to watch for the next seven games.




2) You know this game meant a lot to Aaron Rodgers because he was willing to play a supporting role. The reigning league MVP threw only 20 passes and allowed Jones and Dillon to literally carry the load. But when Rodgers did let it rip, his accuracy was the best it's been all season. His two deep balls to Watson were things of beauty. The future first-ballot Hall of Famer is a very proud man who was obviously embarrassed by his terrible performance against the Lions a week earlier and didn't want a repeat with his former head coach (Mike McCarthy) standing on the opposing sideline. If Rodgers plays this way going forward, the rejuvenated Packers might just be able to make the month of December interesting.
3) Rudy Ford was the defensive player of the game with a pair of interceptions in the first half that led to 14 points, but it's fair to wonder if he would've still been on the bench had Eric Stokes not gotten hurt the week before. That injury provided clueless stubborn coordinator Joe Barry with an excuse to finally move struggling free safety Darnell Savage to the slot. Both positions were better on Sunday. In addition to the picks, Ford played extremely hard and made a few really nice tackles in the open field. As for Savage, he looked more comfortable lined up closer to receivers. And while his overall performance was far from great – he allowed five catches (on six targets) for 75 yards – it was somewhat encouraging.
The speedy Ford (#20) came from about 15 yards off the line of scrimmage to make this tackle, holding the running back to a 3-yard gain.
4) Jarran Reed had already proven himself to be worth the relatively small price ($3.25 million) general manager Brian Gutekunst paid for his services, but against the Cowboys, the veteran defensive end looked like the bargain of the year. The former Alabama star was physical at the point of attack and very disruptive as a pass rusher. His seven pressures were more than double his previous high this season. It was easily his most complete game as a Packer. On two of the game's biggest defensive plays, Reed forced quarterback Zak Prescott to throw incomplete. He easily beat veteran left guard Connor McGovern both times, first on 3rd-and-9 in the middle of the fourth quarter and then on 4th-and-3 in overtime.
5) Green Bay's defense continues to get gashed on the ground – Dallas rushed for over 150 yards minus Ezekiel Elliott on Sunday – and one of the biggest reasons has been the disappointing play of $18 million per year nose tackle Kenny Clark. The former UCLA star hasn't looked like himself since September. Clark isn't defeating double teams, and even more alarming; he's not winning 1-on-1 matchups on a consistent basis. The Cowboys ran with great success between the tackles. Ironically, things would've been worse had it not been for third-string inside linebacker Isaiah McDuffie. The second-year player from Boston College made a couple of tackles that kept Tony Pollard from exploding into the secondary.
6) Speaking of bargains, Keisean Nixon had a very productive game against the Cowboys. Not only did he play a few snaps in the slot on defense, but he also returned five kicks and two punts and covered six kicks and four punts. Prior to Sunday, the former South Carolina star had never returned a punt in either college or the NFL. That's how desperate the Packers were to replace Amari Rodgers, whose fumble in the third quarter led to a Dallas touchdown that broke a 14-14 tie. Whether Nixon retains that job going forward remains to be seen. While he handled his chances without any major problems, watching him catch one of the balls over his head inside the five-yard line had to give the coaches agita.




OVERALL: We won't have to wait long to find out what this thrilling win actually meant. If the Packers beat Tennessee on Thursday night, it meant the team finally righted a ship that had been slowly sinking for weeks. If the Packers lose to Tennessee on Thursday night, it meant a mediocre at best team won a game at home, which happens all the time in the NFL. Either way, making the playoffs is still unlikely, thanks to those very disappointing losses to Washington and Detroit.