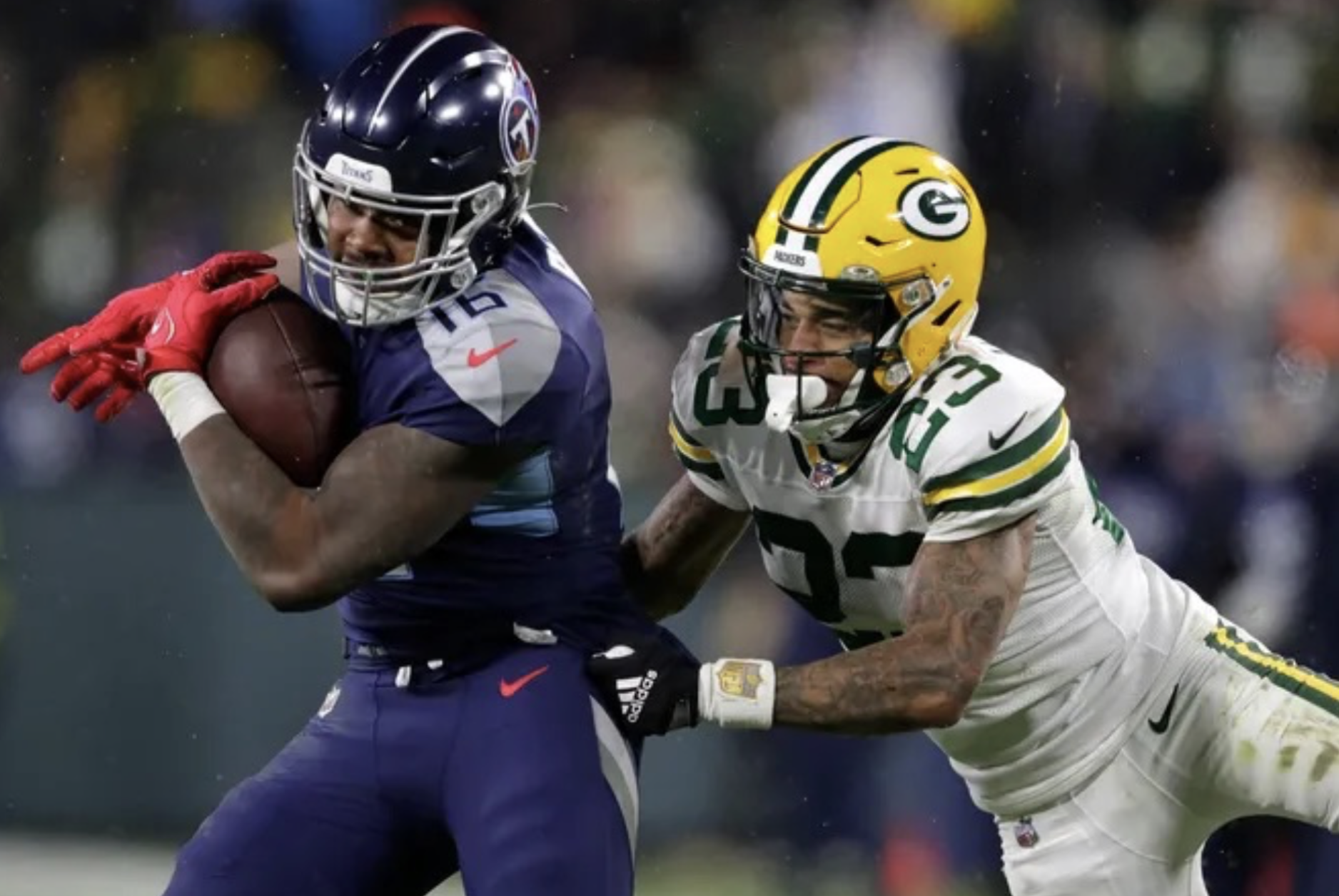 After re-watching Thursday's game against the Titans, here are five six things worth knowing:
1) The play of inside linebackers Quay Walker and Krys Barnes was a big reason why Derrick Henry averaged only 3.1 yards per carry. The rookie from Georgia was used at defensive end on 18 snaps and did a surprisingly good job. He keeps getting a little better each week. I'd like to see Walker given more opportunities to rush off the edge. Maybe he could help fill the void left by Rashan Gary's season-ending knee injury. Barnes attacked the line of scrimmage and was extremely physical all night. It's unlikely the player he was replacing – All-Pro De'Vondre Campbell – would've been as effective against the run.




2) Rasul Douglas isn't playing nearly as well as he did a year ago, but Thursday was a very good night for the veteran cornerback. He was physical in run support and made an impressive interception in the fourth quarter that would've sparked a team that still had a pulse. But what the former West Virginia star did best was throw his body around on special teams. While a number of other starters are used to cover kicks and punts, none work as hard as the 27-year-old in that unglamorous job. The Packers wouldn't be such a disaster if a few more players like Douglas were on the roster.
3) While Douglas stepped up vs. the Titans, his more celebrated teammate, Jaire Alexander, had a rough night. The Packers aren't paying the All-Pro corner over $20 million per year to give up third-down completions to the likes of Robert Woods. It would also be nice to see Alexander at least feign interest in tackling. Watching him run alongside Henry for 20 yards on a third-quarter screen pass was infuriating. Prior to hurting his shoulder in October 2021 and hitting the proverbial jackpot last spring, Alexander would've at least attempted to get the much bigger player to the ground.
Alexander (#23) would've been more useful carrying an iPhone and taking a video of this play because he had no intention of tackling Henry.
4) It's unfair to be too critical of Darnell Savage since Thursday night was just his second game as a slot corner, but he needs to be a lot better if this move is going to work. The former No. 1 pick from Maryland got beat twice for 37 yards and appeared to be out of position several other times. He also looked bad on a few feeble attempts to tackle the 245-pound Henry. Savage's replacement at free safety, journeyman Rudy Ford, followed up last week's great performance against the Cowboys with a very uneven effort that reminded everybody why he's started fewer than 10 games since 2017.
5) Titans All-Pro defensive tackle Jeffery Simmons and speedy inside linebacker David Long are brutal matchups for any interior offensive lineman, but Jon Runyan Jr. made their job too easy on Thursday night. The veteran right guard was beaten by both quickness and power and was a big reason why Aaron Jones and AJ Dillon gained only two yards on three carries when running in his direction. Runyan is probably still adjusting to switching sides. His technique hasn't been as good the past five games, and doing the little things correctly is vital for a player with relatively limited physical skills.
This is a difficult block to make against a very good inside linebacker, but Runyan (#76) has to at the very least slow Long (#51) down a bit.
6) For the second time in 11 days, Aaron Rodgers was outplayed by a pretty average quarterback. The reigning league MVP missed a handful of throws that any talented high schooler could've made. If the injured thumb on his right hand is the cause of the inaccuracy, then Rodgers should sit until it's healed. Then again, a dinged-up digit wouldn't explain why he took a terrible sack early in the fourth quarter rather than unload the ball to an open Dillon, who was about seven yards in front of him. Lately, Rodgers hasn't been able to lift the Packers up; in fact, he's helping to drag them down.




OVERALL: In my game preview, I predicted the team that showed up against the Cowboys would beat Tennessee, and the team that showed up the previous five games would lose by double digits. Unfortunately, the latter group took the field on Thursday evening and lost 27-17. It was a winnable game against a banged-up opponent, but the Packers were badly outcoached, committed far too many mental mistakes, and didn't come close to matching the Titans' physicality and intensity.