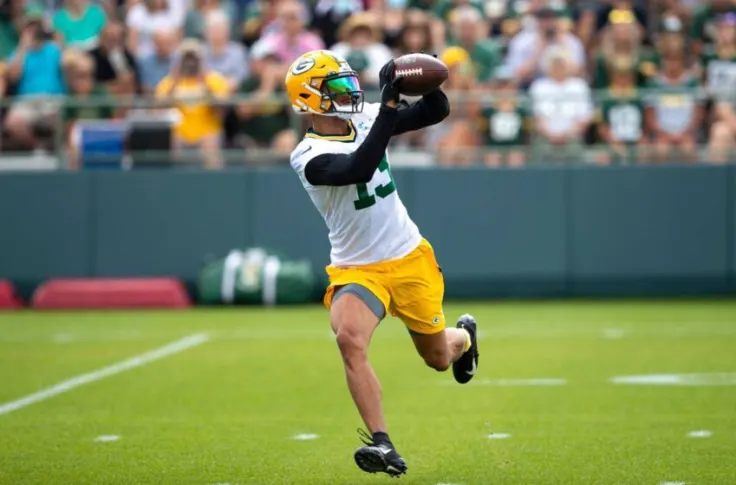 The Packers held their second practice of training camp earlier today. Here are the five most newsworthy items from July 28:




1) Allen Lazard, who played at nearly 230 pounds the past three years, looks about 10 pounds lighter this summer. The drop in weight almost certainly coincides with his rise up the depth chart. With Davante Adams and Marquez Valdes-Scantling gone, the fourth-year wide receiver from Iowa State will be asked to do more running routes and less blocking defensive lineman this season. As the presumptive WR1, Lazard will also be facing better cornerbacks, so being quicker into and out of cuts will be a necessity if he expects to gain consistent separation against someone like Week 1 opponent Patrick Peterson of the Vikings. We should get a better idea of how Lazard will fare versus tougher competition as the summer progresses. He'll face daily challenges against All-Pro Jaire Alexander and rising star Eric Stokes.
2) Speaking of cornerbacks, it's no surprise to see Rasul Douglas getting most of his reps in the slot. But don't expect him to stay there on a weekly basis. The former Eagle and Cardinal lacks the burst out of breaks to cover ultra-quick wide receivers. For example, while Douglas should be OK inside against division rivals Adam Thielen (Vikings) and Byron Pringle (Bears), asking him to stay with Amon-Ra St. Brown (Lions) would make very little sense. Defensive coordinator Joe Barry will have to move his corners around like chess pieces depending on the opponent. It's not ideal, but the alternative was letting Douglas go, and after how well he played last season, that was rightfully never going to happen.
3) Romeo Doubs continues to make plays, so it's no surprise the media is overreacting. They did the same thing a few years ago when another rookie wide receiver drafted in the middle rounds got off to a hot start in training camp. And while I think Doubs is a much better prospect than Trevor Davis, it's important to point out that the first two practices were padless and a few of his catches have come against cornerbacks who won't be on the roster a month from now. Doubs has talent, but without one physical trait that really stands out, I still question whether he'll be able to get open against quality corners. So while his first few days of camp are certainly encouraging, let's not put him in Canton just yet.
4) Day 2 saw Zach Tom at left tackle and Yosh Nijman at right tackle with the 1s (my preferred alignment sans David Bakhtiari). It's very early, but if the goal is to get the five best players on the field, this could be a preview of how things will look in September. With Nijman at right tackle, Royce Newman, who took snaps there with the 1s on Wednesday, and Sean Rhyan could compete at right guard. The No. 2 unit remained the same (from left to right: Tom, Michael Menet, Jake Hanson, Rhyan, and Cole Van Lanen). Regardless of how things eventually shake out, the Packers will go into the opener with one of the youngest O-lines in the entire league. The average age of today's five starters was just over 24.
5) The first two days of practice lasted for a combined 3 hours and 5 minutes. In 1988, the Eagles first two days of practice lasted for a combined eight hours. I know because I was there covering the team for a local television station and still have the notes (I also still remember almost passing out from the heat on numerous occasions). Two-a-days were the norm back then, and practicing in shorts without pads wasn't really a thing. Was the game better three and a half decades ago? Maybe, but it certainly wasn't as entertaining to watch on TV, and it certainly wasn't as safe. Speaking of which, I can only imagine Buddy Ryan's reaction to what all the Packers had on top of their helmets on Wednesday morning.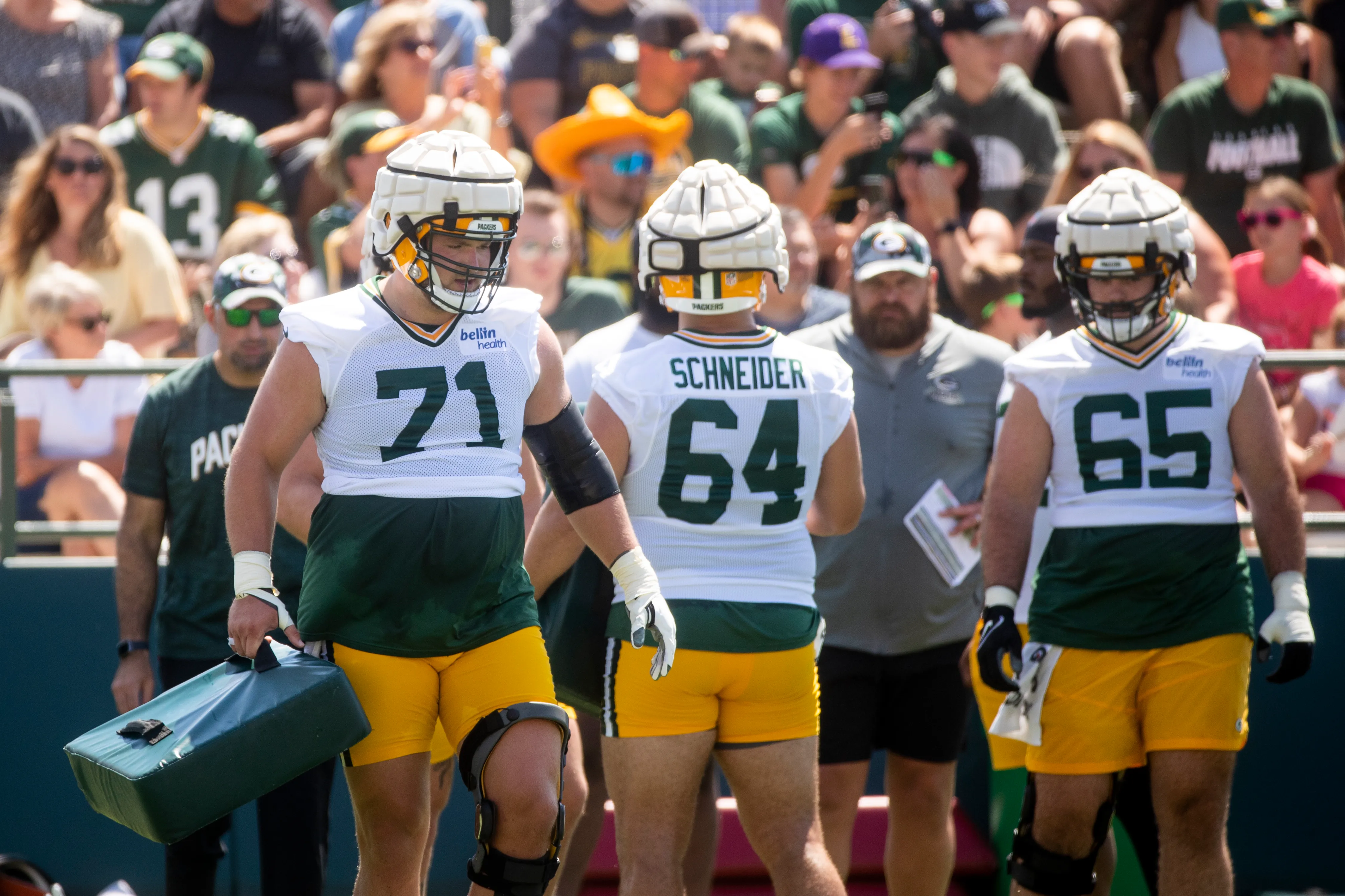 Big thanks to Packers Notes contributor Michael Posh for being my eyes at practice. I'm hoping to get to Green Bay in August.