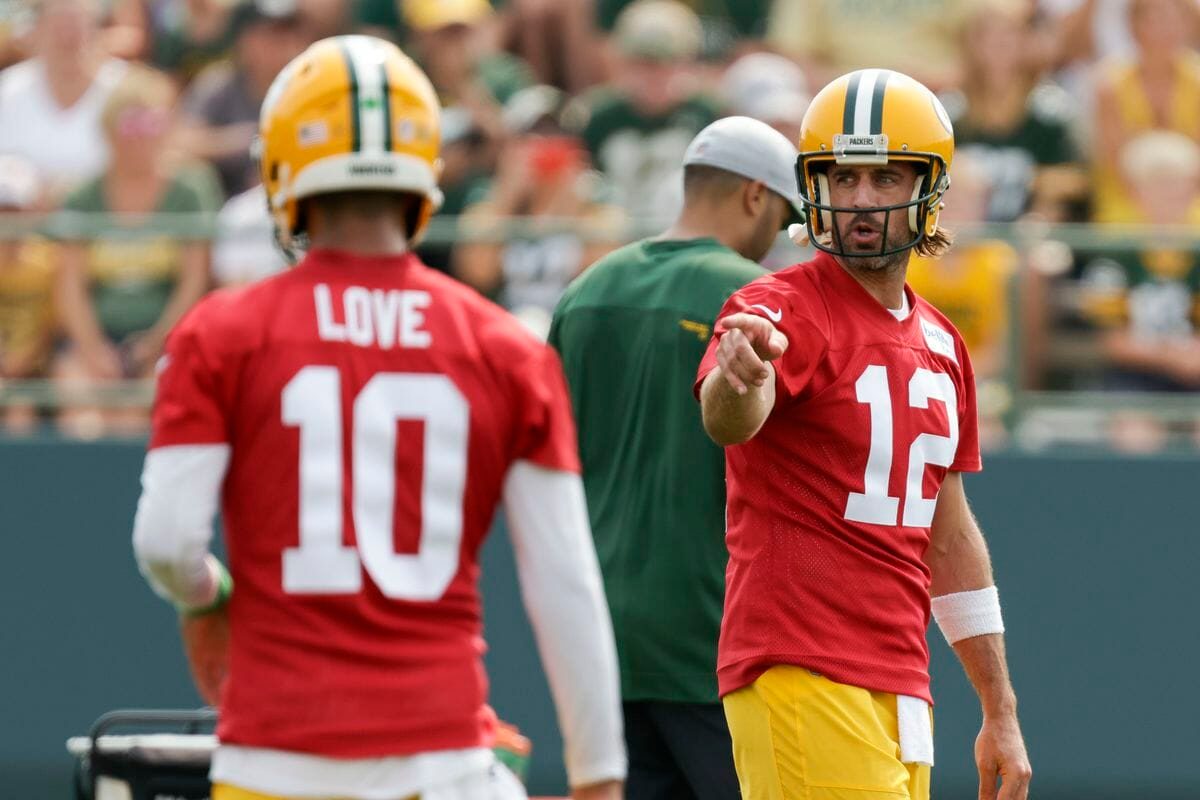 I thought the Packers should trade Aaron Rodgers in 2021. The reigning MVP's value would never be higher, and the team was coming off a disappointing loss in the NFC championship game. General manager Brian Gutekunst chose to hold onto his 37-year-old QB, and while I disagreed, I understood the thinking. I also thought the Packers should trade Rodgers last spring. The reigning MVP's value would never be higher, and the team was coming off a disappointing loss in the divisional round. Gutekunst chose to hold onto his 38-year-old QB, and while I disagreed, I kind of understood the thinking.
Gutekunst will soon be faced with the same decision, and if he again chooses to keep his 39-year-old QB, I absolutely won't understand the thinking. Moving on from Rodgers following 13-win seasons would've taken Ron Wolf-size balls, which his protege doesn't own. But moving on following an 8-9 season doesn't take big cojones; it just takes common sense.
If the window to getting to the Super Bowl was still half open in 2021 and a quarter open in 2022, it's now closed shut. There's nothing Gutekunst can do from March through August, or the coaching staff can do from September through December to make the Packers a legit threat to get to the Super Bowl. With a bloated salary cap that'll make adding quality free agents next to impossible and a roster with more holes than Swiss cheese, even a 29-year-old Rodgers couldn't navigate his way to the top of a much-improved NFC North and then through the Eagles and 49ers in the playoffs.
Of course, Rodgers hasn't been 29 since the beginning of Barack Obama's second term in the White House, and his age really started to show this season. Even before suffering a fractured right thumb on the last play of a Week 5 loss to the Giants, the four-time MVP and future first-ballot Hall of Famer was missing throws he would usually make in his sleep. He also struggled against pressure, which emboldened defensive coordinators to bring more heat. It was eye-opening to see Wink Martindale blitz Rodgers on over 40% of his dropbacks. It was even more startling to see him get away with it.
Yet, despite Rodgers' declining skills, he's still among the top 10 players at his position in the league going into next season. That's not hyperbole. After Buffalo's Josh Allen, Cincinnati's Joe Burrow, Kansas City's Patrick Mahomes, and the Chargers' Justin Herbert, which QBs would rank ahead of Rodgers? Maybe Baltimore's Lamar Jackson, Dallas' Dak Prescott, Philadelphia's Jalen Hurts, Tampa Bay's Tom Brady, and a healthy Tua Tagovailoa. The point is, the soon-to-be quadragenarian should still be desirable to several teams. It's just that the 2023 Packers shouldn't be one of those teams.
Gutekunst has to accept reality and move on from Rodgers. He also needs to finally give Jordan Love an opportunity to show his stuff. Keeping a No. 1 draft pick on the bench for a fourth season would be nonsensical to the team and unfair to the player. Would the Packers be better with Love under center instead of Rodgers? Probably not, but finishing 7-10 with the young guy would be preferable to going 10-7 and getting knocked out in the wild-card round with the old guy. And any person taking a realistic view of the next 12 months would admit that the second scenario is probably the best case.
I'm not sure what Rodgers could fetch in a trade, and I don't really care. If the Jets, Patriots, Titans, Raiders, Saints, Commanders, Seahawks, or any other team offers a high draft pick or two, Gutekunst should take it. The time to get the better of another general manager has come and gone. The time to get what you can and move on with life has arrived.
Gutekunst held onto Rodgers long enough to secure an extension last spring, so he's not going anywhere for the next few years. Such security allows him to see if Love's the long-term answer or draft another quarterback in 2024. Do I think Gutekunst will finally do what he should've done the past two springs? Not really, especially after hearing him speak at his end-of-the-season press conference a few weeks ago. But you never know. Maybe Gutekunst will finally come to his senses. Or maybe Rodgers will retire and walk away from $58M. To be honest, I'm not sure which is less likely.
[yop_poll id=" 82″]